This webpage won't be updated anylonger.
Please visit: www.gerhardsengerner.com




Edgar Bryan (2007)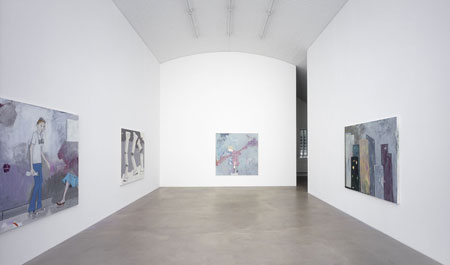 Installation view: Edgar Bryan, c/o – Atle Gerhardsen, Berlin 31 May –30 Jun 2007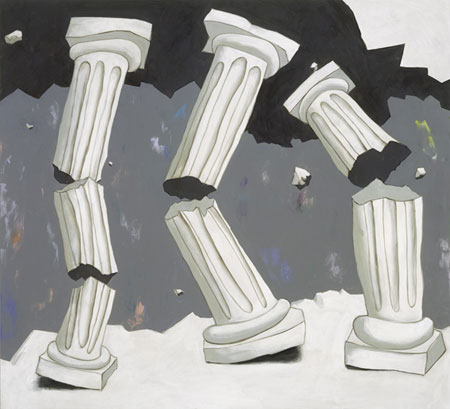 Arcade, 2007
Acrylic and oil on canvas
152,5 x 167,5 cm (60 x 66 inches)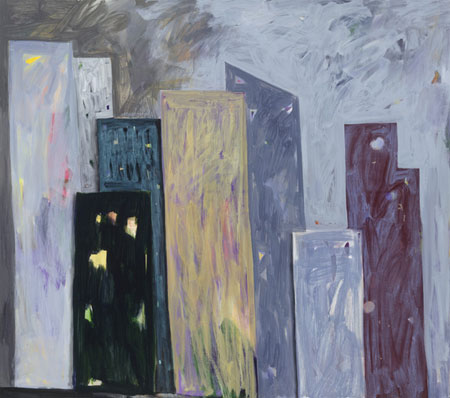 City, 2007
Acrylic and oil on canvas
152,5 x 173 cm (60 x 68 inches)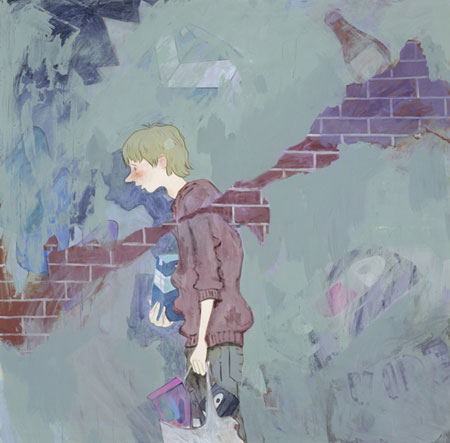 Frownland, 2007
Acrylic and oil on canvas
180,5 x 183 cm (71 x 72 inches)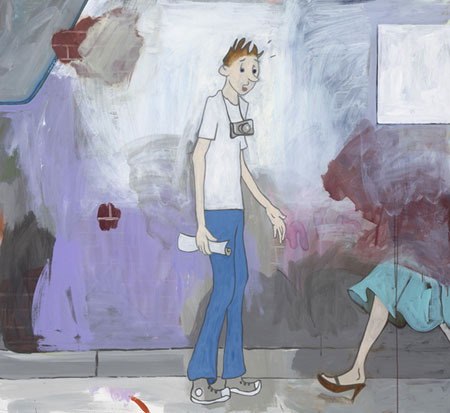 Sie liebt Dich, 2007
Acrylic and oil on canvas
167,5 x 183 cm (66 x 72 inches)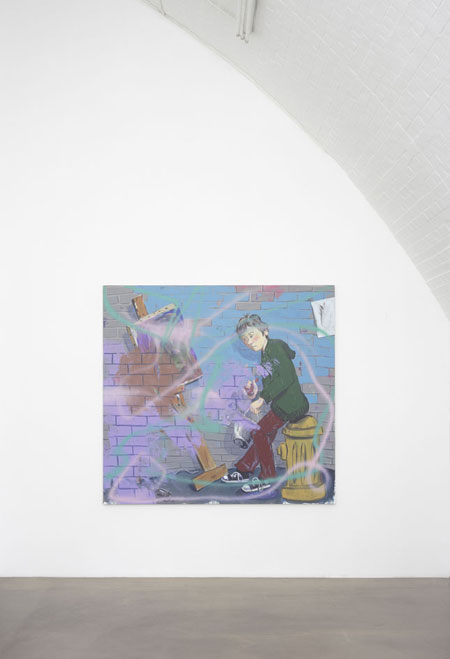 PBS, 2007
Acrylic and oil on canvas
173 x 183 cm (68 x 72 inches)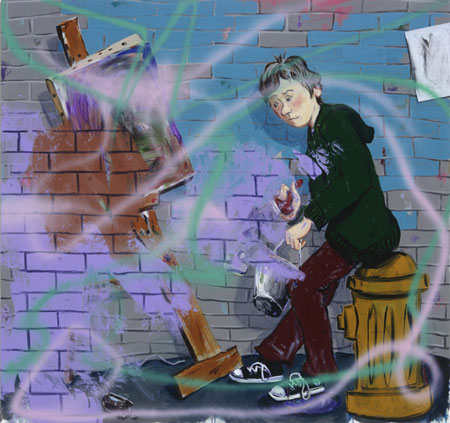 PBS, 2007
Acrylic and oil on canvas
173 x 183 cm (68 x 72 inches)


PRESS RELEASE

Edgar Bryan

Opening reception: Thursday, 31 May 2007, 6–9 pm
Exhibition duration: 31 May–30 Jun 2007
We are very pleased to announce the opening of the American artist Edgar Bryan's second solo exhibition at c/o – Atle Gerhardsen.
In this year's exhibition, Edgar Bryan will be showing five new paintings at c/o – Atle Gerhardsen. Three of the paintings are of young men in urban environments. Bricks, peeling paint and posted ads cover the surrounding walls. The figures, whether absorbed in thought, dumbstruck by a shocking event, or preoccupied while painting a picture, all share a common transitory life as they too peel away with the broken plaster or are covered over with spray paint and brick.
The figures portrayed in Edgar Bryan's paintings often share facial features with the artist himself, albeit pared down to a caricature reminiscent of a New Yorker illustration. Bryan makes use of the allegorical self portrait in order to engage with the issues involved in his occupation: with a pensive expression the artist gazes at the canvas in front of him. The stylization brings the mental processes to the foreground in the facial expression: the sweaty speechlessness at the sight of a woman's legs, the young man with his shopping bags lost in thought with melancholy resignation, and of course the strained expression of the thinking painter. The sometimes intense and sometimes humorous preoccupation with the emotional expressivity of the face – is reminiscent of New Objectivity in the 1920's, and of Karl Hubbuch´s characteristic drawings - providing the work with an ironic edge.

Edgar Bryan's paintings are defined by a restrained sense of melancholy, underlined by the coloring. The figures seem to be uncommonly resigned, taking both themselves and their circumstances in stride. In some peculiar way, time seems to freeze, only to thaw drop by drop.

Edgar Bryan, born in Birmingham, Alabama in 1970, studied painting at the Art Institute of Chicago and at the University of California, Los Angeles. He currently lives and works in Los Angeles. Besides this year's exhibition at c/o – Atle Gerhardsen, his work will also be shown in 2008 in a solo exhibition at Zach Feuer in New York.

---


PRESSETEXT
Edgar Bryan
Eröffnung: Donnerstag, 31. Mai 2007, 18–21 Uhr
Ausstellungsdauer: 31. Mai–30. Jun 2007
Wir sind sehr erfreut, die Eröffnung der zweiten Einzelausstellung des amerikanischen Künstlers Edgar Bryan mit c/o – Atle Gerhardsen ankündigen zu können.
Edgar Bryan zeigt in diesem Jahr fünf neue Gemälde bei c/o – Atle Gerhardsen. Die Malereien des Künstlers greifen surreale Räume auf, in denen sich ebenso surreal anmutende Begebenheiten des Alltags ereignen.
Ein junger Mann trägt seine Einkäufe nach Hause, in gebeugter Haltung geht er an einer hohen Mauer vorbei. Doch irgendetwas stimmt mit dieser Mauer nicht: in einem langen Riß bröckelt der Putz und.. der Riß in der Mauer verläuft diagonal durch den Oberkörper des Mannes. Auch die Einkäufe in der Tasche schimmern in einer Doppelung überdimensional aufgeblasen hinter dem türkis-grauen Putz der Mauer auf.
Im Vergleich zu seiner Ausstellung in unserer Galerie in 2005 gehen die aktuellen Arbeiten mehr in eine karikaturhaft-stilisierende Richtung. Besonders die Gemütsregungen in den Gesichtern sind hervorgehoben: verschwitzte Sprachlosigkeit angesichts eines Frauenbeins, die versonnene melankolische Niedergeschlagenheit des jungen Mannes mit der Einkaufstüte, und natürlich das angespannte Nachdenken des Malers. Die intensive Beschäftigung mit dem emotionalen Ausdruck des Gesichts erinnert an die Mimikstudien der Neuen Sachlichkeit in den 1920er Jahre, z.B. von Karl Hubbuch. Auffällig bleibt aber die enge Bezugnahme auf karikaturale Zeichenkunst – man denke an die Zeichnungen des amerikanischen Karikaturisten Saul Steinberg für den New Yorker – was die Arbeiten mit der Stilfigur der Ironie bereichert. Interessant ist auch, daß die Figuren auf Edgar Bryans Bildern oftmals die Gesichtszüge des Künstlers selbst tragen.
Edgar Bryans Gemälde sind bestimmt von einer verhaltenen Melancholie, die zudem durch die Farbgebung unterstrichen wird, und die Figuren wirken seltsam verlassen mit sich selbst sowie in den Situationen, in denen sie sich befinden. Die Zeit scheint auf seltsame Weise einzufrieren und nur tropfenweise weiterzurinnen.
Edgar Bryan, 1970 in Birmingham / Alabama geboren, studierte Malerei am Art Institute of Chicago und an der University of California, Los Angeles. Heute lebt und arbeitet er in Los Angeles. Neben seiner diesjährigen Ausstellung mit c/o – Atle Gerhardsen, werden seine Arbeiten 2008 in einer Einzelausstellung bei Zach Feuer in New York zu sehen sein.