This webpage won't be updated anylonger.
Please visit: www.gerhardsengerner.com

Jan Christensen – Some Titles for Which I Don't Know What to Make (2004)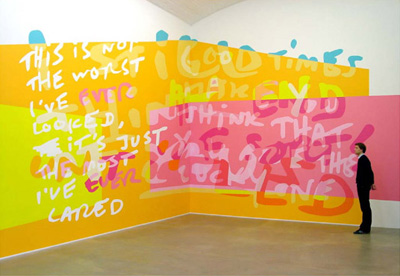 Some Titles for Which I Don't Know What to Make
, 2004
Wall painting, acrylic paint, 450 x 825 x 610 cm
Installation view: c/o – Atle Gerhardsen, Jan 31–Mar 13, 2004
Press release

Jan Christensen
Some Titles for Which I Don't Know What to Make

Opening reception: Jan 31. 2004, 18.00
Duration: Jan 31–Mar 1, 2004

For his second solo exhibition with the gallery, Jan Christensen will install a large wall painting composed of layers of coloured words, which are titles for works of art which has not yet been conceived. These superimposed layers blend through each other and produce a decorative and graphically vivid image with a strong play of colours.
The intention of this utterly self-referential piece is to investigate the objecthood of the work of art in such a way as to question the development of material for the listed titles, as if not the words and short sentences themselves generate recognition and prompt references in the mind of the viewer. The transparency of the layers, which mimic the blending effects from graphic design software, might even inspire the reading of new combinations of the words. The actual installation, as will be seen in the gallery, makes out the above mentioned piece, "Some Titles for Which I Don't Know What to Make".
Jan Christensen was born in Copenhagen, Denmark, 1977. He studied at the National College of Art and Design in Oslo, Norway, until 2000, and has been based in Berlin since 2001. He has since then received several Scandinavian grants and art prizes, and was given two periods of residency at IASPIS in Stockholm last year. He currently holds a residency of four months at Villa Arson in Nice, France. His solo exhibitions in 2003 included Quarantine Series, Amsterdam; Galerie Nordenhake, Stockholm; and Galleri MGM, Oslo. Up-coming projects for 2004 include a group exhibition at the Artsonje Center in Seoul, South Korea.

---