neues Arbeiten




Konstruiertes Lächeln (Sol LeWitt smiling), 2006
Acryl and Oil on canvas, 59,4 x 59,4 cm (23,38 x 23.38 inch)



Installation View
Kreuzer, 2007
mixed media, 93 x 87 x 16 cm (36.61 x 34.25 x 6.29 inch)



Installation View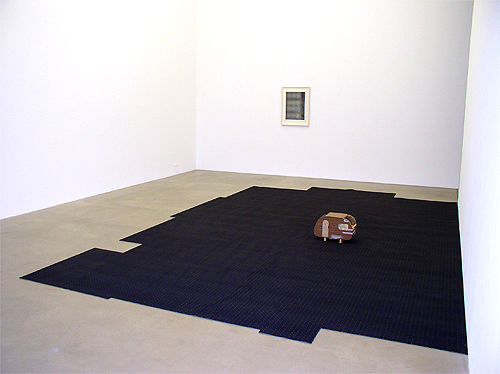 Magic Eye, 2007
carpet, wood object, framed collage 500 x 350 cm (196.85 x 137.79 inch)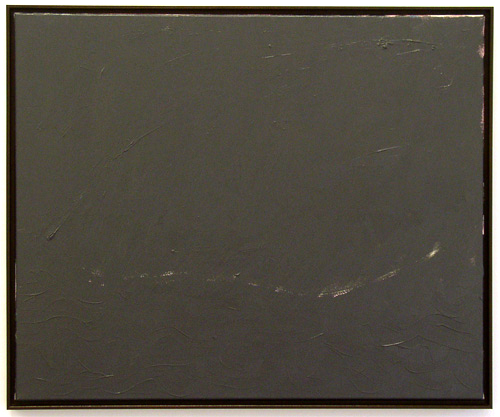 Ufer, 2007
Oil on canvas, shadow gap frame, 60,5 x 73,4 cm (23.82 x 28.89 inch)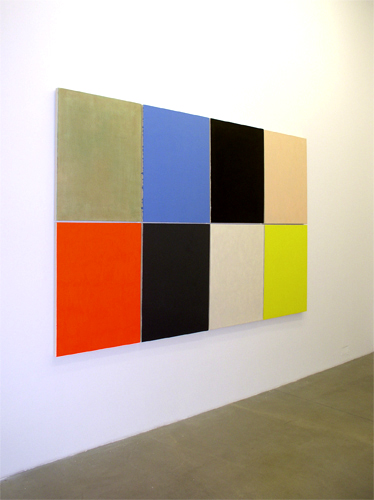 8 Monochrome Arbeiten, 2007
mixed media, 190 x 300 cm (74.8 x 118.11 inch)




PRESS RELEASE


Martin Hoener
neues Arbeiten
Opening reception: 29 Nov 2007, 6–9 pm
Exhibition duration: 29 Nov–20 Dec 2007
Pressrelease
In 2006, Martin Hoener was part of the group show "Attitude" (curated by Lars Bang Larsen) at c/o – Atle Gerhardsen. We are greatly pleased to announce a solo exhibition with Martin Hoener at the end of Nov.
Martin Hoener was born in Hamburg in 1976. He studied fine arts at the Muthesius Academy of Fine Arts in Kiel, as well as with Thomas Bayerle and Michael Krebber at the Städelschule in Frankfurt am Main.
In his exhibition at c/o – Atle Gerhardsen, Martin Hoener traces some thoughts on the theory of colour and concepts of temporal, spatial and visual movement and transformation, calling the exhibition "neues Arbeiten". In a quest for "new pathways" for art, he repeatedly stumbles over practices and techniques from recent and ancient art history, and sets out to investigate and rearrange them.
When visiting the gallery, the visitor first sees uniform grey walls. The grey of the walls is coordinated with a certain oil paint hue (the sum of all colours in Martin Hoener's studio). Here the artist places a work entitled "Konstruiertes Lächeln (Sol LeWitt smiling)", with small coloured squares reminiscent of Hard Edge paintings. The humorous title melts the severity of the provided exemplar. Especially as here a piece of trivial everyday design is used as a pattern for the work.
The trial series of 8 monochrome canvasses documents time and transience through gradual shifts in appearance and colour.
"magic eye" (2007) is an installation, composed of an object on a custom-made floor rug and a collage. The small object turns out to be a house trailer, made out of a cut-up speaker. The carpet with its many corners and indentations could be the floor plan of a well-organized room. The collage with its dots seems to clarify the many intermediate stages of the isolated components: the flickering irritates the eyes; it is nearly optically impossible to focus. It is possible to go through the various theoretical stages of meaning in the work, and yet difficult to come to a conclusion – as an auto focus function with no focal point, searching in vain for the correct setting.
The work "Kreuzer" (2007) is hanging from the ceiling in the exhibition space. The model of a sailing yacht from the 1930s links into the idea of freedom and boundlessness, associated with private sailing in our times. On the other hand, the boat is floating in a motionless state. In "Moby Dick" (chapter 42), Herman Melville makes a connection between sailing and the philosophy of colour, tracking conceptual and colour theoretical view on the "non-colour" white. As a faded white ghost ship, the "Kreuzer" crosses the space over the heads of the spectators, and raises conceptual questions regarding the nature of space in a simple manner.
In painting, colour is a constantly changing medium. Martin Hoener shows the shifts in small dimensions - both in colour technique and on a conceptual level in the monochrome works - and traces intermedial relationships such as creating "moving ways of thinking" in "magic eye". And finally, "Kreuzer" opens up worlds of ideas and utopias, which are only as tangible as the colour white in the theory of colours.
___________
Martin Hoener
neues Arbeiten
Eröffnung: 29. Nov 2007, 6–9 p.m.
Ausstellungsdauer: 29. Nov – 20. Dez 2007
Martin Hoener war 2006 mit drei Arbeiten in der Gruppenausstellung "Attitude" (kuratiert von Lars Bang Larsen) bei c/o – Atle Gerhardsen beteiligt, nun freuen wir uns sehr für Ende Nov eine Einzelausstellung mit dem in Frankfurt/Main lebenden Künstler ankündigen zu können.
Martin Hoener wurde 1976 bei Hamburg geboren, und studierte Freie Kunst an der Muthesius Hochschule in Kiel sowie bei Thomas Bayerle und Michael Krebber an der Städelschule in Frankfurt/Main.
In seiner Ausstellung bei c/o – Atle Gerhardsen spürt Martin Hoener Gedanken zu Farbtheorie und Konzepten von zeitlicher, räumlicher und visueller Bewegung und Transformation nach und nennt diese Ausstellung dennoch "neues Arbeiten". Auf der Suche nach "neuen Wegen" für die Kunst stößt er immer wieder auf Praktiken und Techniken der älteren und jüngeren Kunstgeschichte, um diese zu untersuchen und in andere Verbindungen zu setzen.
Der Besucher wird durch einheitlich graue Wände in die Galerie hineingeleitet. Das Grau der Wände ist auf einen bestimmten Ölfarbton (der Summe aller Farben im Atelier von Martin Hoener) abgestimmt. Dort platziert der Künstler eine, durch kleine Farbrechtecke an die Hard-Edge-Malerei erinnernde Arbeit mit dem Titel "Konstruiertes Lächeln (Sol LeWitt smiling)". Der humorvolle Titel löst die Strenge der Vorbilder auf. Zumal hier ein Stück trivialen Alltagsdesigns als Vorlage verwendet wurde.
Die Versuchsreihe von 8 monochromen Leinwänden dokumentiert durch allmählichen Erscheinungs- und Farbwandel Zeit und Unbeständigkeit.
"magic eye" (2007) ist eine Installation, bestehend aus einem Objekt auf einem zugeschnittenen Teppichboden sowie einer Kollage. Das kleine Objekt stellt sich als Wohnwagen heraus, welcher aus einer zersägten Lautsprecherbox gefertigt wurde. Der Teppich mit seinen vielen Ecken und Einbuchtungen könnte auch der Grundriß eines gut durchstrukturierten Zimmers sein. Die Kollage mit ihren Punkten scheint die vielen Zwischenzustände der Einzelkomponenten zu verdeutlichen: das Flimmern irritiert das Auge, ein Fokussieren ist optisch kaum möglich. Auch gedanklich kann man verschiedene Bedeutungsstadien der Arbeit zwar durchlaufen, jedoch ist es schwer, sich auf eine Aussage festzulegen - wie ein Autofokus, der die schärfste Einstellung vergeblich sucht.
Im Ausstellungsraum hängt die Arbeit "Kreuzer" (2007) von der Galeriedecke herab. Das Modell einer Segelyacht aus den 1930er Jahren knüpft an die Vorstellungen von Freiheit und Grenzenlosigkeit an, die in dieser Zeit mit der privaten Seefahrt verbunden wurde. Andererseits hängt das Boot in einem starren Schwebezustand fest. Herman Melville verbindet in "Moby Dick" (Kapitel 42) Seefahrt und Farbphilosophie, indem er gedanklichen und farbtheoretischen Anschauungen zu der "Nichtfarbe" Weiß nachgeht. Als fahlweißes Geisterschiff durchkreuzt "Kreuzer" den Raum über den Köpfen der Betrachter, und wirft so auf ganz einfache Weise raumkonzeptuelle Fragen auf.
Farbe ist in der Malerei ein in ständiger Veränderung befindliches Medium. Martin Hoener zeigt Wandel in kleinen Dimensionen auf farbtechnischer sowie konzeptueller Ebene bei den monochromen Arbeiten oder geht intermedialen Beziehungen sowie dem Schaffen von "beweglicher Denkweisen" in "magic eye" nach. Schließlich bricht "Kreuzer" in Ideen- und Utopienwelten auf, die ebenso wenig oder ebensoviel faßbar sind wie die Farbe Weiß in der Farbenlehre.