This webpage won't be updated anylonger.
Please visit: www.gerhardsengerner.com
Shintaro Miyake – NI-MARU-MARU-ROKU, in DOITSU (2006)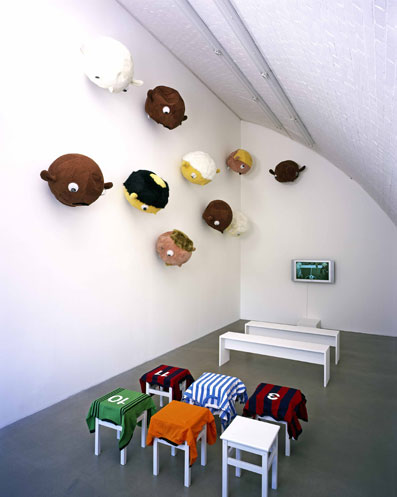 Installation view: Shintaro Miyake – NI-MARU-MARU-ROKU, in DOITSU, 2006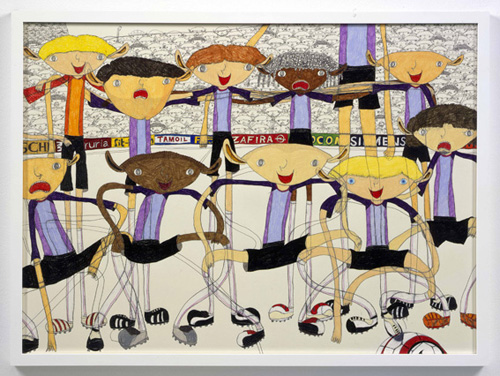 Teammates, 2006
Color pencil on paper, 79 x 109 cm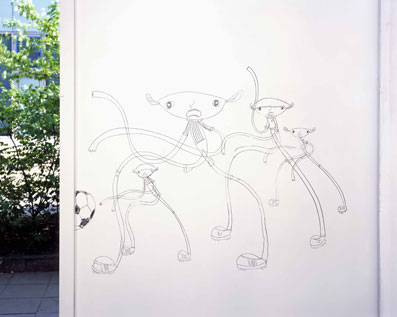 Installation view: Shintaro Miyake – NI-MARU-MARU-ROKU, in DOITSU, 2006



---


PRESSRELEASE

Shintaro Miyake
NI-MARU-MARU-ROKU, in DOITSU
Opening: Apr 28, 2006, 18 – 21h
Duration: Apr 28 – Jun 3, 2006

It is a great pleasure to announce the second solo exhibition of the Japanese artist Shintaro Miyake with c/o – Atle Gerhardsen during the Berlin gallery weekend www.28.-30.Apr2006berlin.de.
Influenced by Japanese Manga and Anime comics, Shintaro Miyake creates fantasy worlds from different subjects. To realize his conceived stories and cosmos he uses the mediums which fullfill his required needs. Thus, the spectrum of his work varies from sculpture to drawing, wooden cut outs, video and performance.

In the course of the Berlin gallery weekend, Shintaro Miyake will deal with the topic of soccer. On the occasion of the World Championship 2006 in Germany the gallery will be turned into a soccer field. Amongst other works, Miyake will show a video documenting a soccer game between two fictiv-real teams: real people dressed in fantastic costumes, the style of which is based upon comic figures, characterized by big oval heads und coloured furry tricots.

Shintaro Miyake is a representative of the Japanese New Pop. The work of his generation of artists is characterized by simple, clear-cut motifs, a mostly buoyant mood, great craftsmanship, and an accomplished play with colours. It has been strongly influenced by an affluent society, the mounting power of the media, and their ever-present output of manga and anime. Only when compared to the traditional high-arts of Japan the criticism levelled at the American style Japanese culture by the New Pop artists will become apparent. Despite of the international success enjoyed by some of the artists and the visual airiness of their paintings, theirs is an art, which has its roots in sub-culture and still defines itself in terms of this heritage.
Shintaro Miyake, born 1970 in Tokyo, Japan, lives and works in Tokyo. His works will be on display in a solo exhibition with the Mass College of Art in Boston until mid of Mar 2006. He will also be participating in the upcoming group show Berlin-Tokyo/Tokyo-Berlin. Die Kunst zweier Städte in the Neue Nationalgalerie in Berlin.


---



PRESSETEXT

Shintaro Miyake
NI-MARU-MARU-ROKU, in DOITSU
Eröffnung und Performance: 28. Apr 2006, 18–21 Uhr
Ausstellungsdauer: 28. Apr – 3. Juni, 2006
Wir sind sehr erfreut, die Eröffnung der zweiten Einzelausstellung des japanischen Künstlers Shintaro Miyake mit c/o – Atle Gerhardsen für das Berliner Galerien-Wochenende www.28.-30.Apr2006berlin.de ankündigen zu können.

Orieniert am japanischen Zeichentrick Manga und Anime, entwirft Shintaro Miyake comichafte Fantasiewelten zu den unterschiedlichsten Thematiken. Zur Realisierung seiner erdachten Geschichten und Kosmen greift Miyake auf das jeweils passende Medium zurück. So variiert die Bandbreite seiner Werke von Skulptur oder Zeichnung, bis hin zu Laubsägearbeiten, Video und Performance.

Im Rahmen des Berliner Galerien Wochenendes wird sich Shintaro Miyake mit dem Thema Fußball auseinandersetzen. Anlässlich der WM 2006 in Deutschland wird die Galerie zum Spielfeld umgewandelt. Shintaro Miyake wird unter anderem ein Video zeigen, dass ein Fußballspiel zwischen zwei fiktiv-realen Mannschaften dokumentiert: reale Personen spielen in fantastischen Kostümen, deren gestalterische Umsetzung dem Comic entlehnt ist. Sie zeichnen sich durch große ovale Köpfe und bunte Plüschtrikots aus.

Shintaro Miyake ist ein Vertreter des japanischen New Pop. Einfache, klare Motive und eine meist heitere Stimmung, sowie technische Versiertheit und ein gekonntes Farbspiel zeichnen die Arbeiten seiner Generation aus, die durch die florierende Konsumgesellschaft, den zunehmenden Einfluß der Medien und damit auch durch den Einfluß von Manga und Anime geprägt wurde. Im Vergleich mit der traditionellen, hohen Kunst Japans wird die Kritik der Künstler des New Pop an der modernen amerikanisierten Gesellschaft Japans deutlich. Trotz der internationalen Erfolge, die manche dieser Künstler inzwischen haben, und Ihrer optischen Leichtigkeit ist es eine Kunst, die aus ihrer Entstehung als Subkultur verstanden werden muß und die sich immer noch im Verhältnis zu ihrer Kultur definiert.

Shintaro Miyake, 1970 in Tokyo, Japan, geboren, lebt und arbeitet in Tokyo. Bis Mitte März 2006 sind seine Arbeiten in einer Einzelausstellung mit dem Mass College of Art in Boston zu sehen. In 2006 wird Shintaro Miyake an der Gruppenausstellung Berlin-Tokyo/Tokyo-Berlin. Die Kunst zweier Städte in der Neuen Nationalgalerie in Berlin teilnehmen.