This webpage won't be updated anylonger.
Please visit: www.gerhardsengerner.com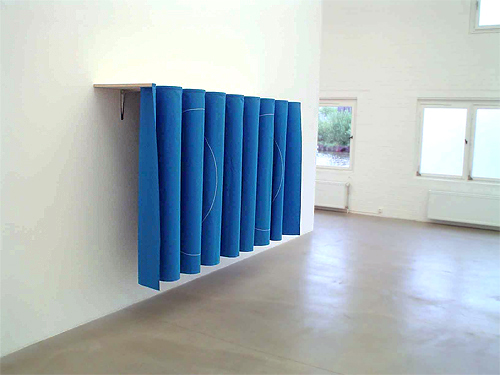 echo, 2003
Textil, Textilmarker, Holz, 152 x 248 x 61 cm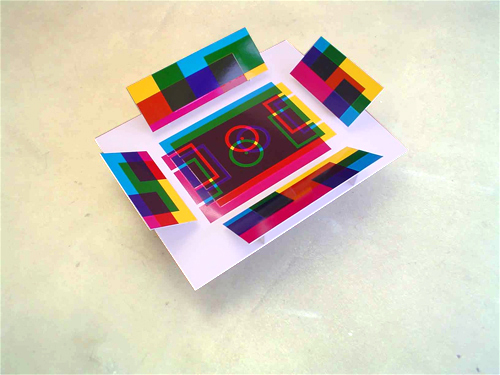 stadium, 2003
Hartschaumplatten, Vinyl , 26 x 75 x 59 cm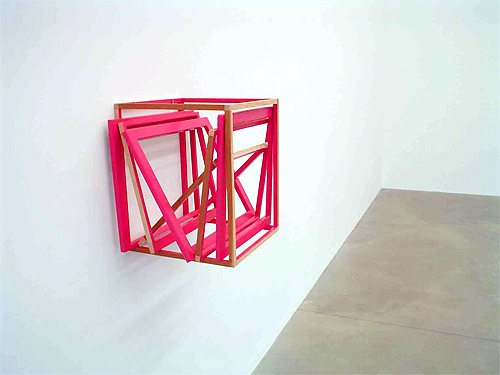 shaved (magenta), 2003
Holz, Wandfarbe, 45,5 x 49 x 37,5 cm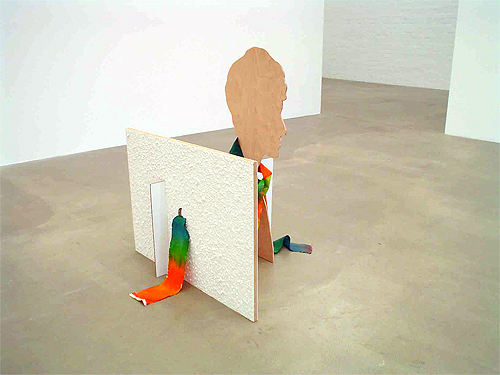 4 things, 2003
Holz, Wandfarbe, Acrylfarbe, Stuck, Textil, Tinte, 81 x 71 x 58 cm




Torbjörn Vejvi
Opening reception: Jul 05.07.03. 19.00
Duration: Jul 06.07–09.08.03
It is a great pleasure to present the first solo show in Germany by Torbjörn Vejvi, born in Sweden 1972. Torbjörn Vejvi lives and works in Los Angeles.The sculptor Torbjörn Vejvi received his education at Malmö Art Academy in Sweden and at the fine arts department of UCLA (University of California, Los Angeles). Since his childhood, when he discovered a special interest in elaborate sets of theatre productions, he started to produce different kinds of sculptures and scaled theatres out of foamcore, cardboard or plywood.

Torbjörn Vejvi has worked for some time with the impact of imagery on our perceptions of the world. Emotion and memory being his subject matter, Vejvi has sought of ways to control and minimize their "chaos" through a balance of "abstraction and realness", and he mentions a crucial point in his development when he discovered that "space can be not just a volume, but a place of tension, too, and that negative space can be used as s point of contact". In fact, it is characteristic of Vejvi's work that its meaning is to be found in the spaces in between.

In applying strategies usually relegated to painting and photography, Vejvi creates ambitious sculptures which turn our imagination towards the gap between different types of representations. His work is visibly handmade, fusing both sculptural and pictorial qualities, as well as being a screen for projections of childhood ideas and its glory days of playfulness.
After showing broadly in USA and Europe lately, Torbjörn Vejvi will soon also show in The Wrong Gallery in New York.

--------------------

Torbjörn Vejvi
Eröffnung: 5. Jul 2003, 19 Uhr
Ausstellungsdauer: 5. Jul–9. Aug 2003

Es ist uns ein großes Vergnügen, die erste Einzelausstellung von Torbjörn Vejvi in Deutschland zu präsentieren. Torbjörn Vejvi, 1972 in Schweden geboren, lebt und arbeitet in Los Angeles.
Torbjörn Vejvi erhielt seine Ausbildung neben dem Studium an der Malmö Art Academy in Schweden auch in der Abteilung für Bildende Kunst an der UCLA (University of California, Los Angeles). Seit seiner Kindheit, in deren Verlauf er ein besonderes Interesse an kunstvoll gestalteten Bühnenbildern entwickelte, fertigt er verschiedenste Skulpturen und Modelle von Bühnenbildern aus Hartschaumplatten, Pappe oder Holz.

Torbjörn Vejvi beschäftigt sich mit der Auswirkung der Metaphorik auf unsere Wahrnehmung der Welt. In Auseinandersetzung mit der Gefühlswelt und der Erinnerung, zweier Hauptthemen seiner Arbeiten, sucht Vejvi nach Wegen, das ihnen inhärente "Chaos" durch eine gestalterische Balance aus "Abstraktion und Wirklichkeit" zu kontrollieren und zu verringern. Er erreichte einen entscheidenden Standpunkt seiner künstlerischen Entwicklung im Zuge der Feststellung, daß "Raum nicht nur Volumen, sondern auch einen Platz der Spannungen darstellen kann, und das negativer Raum als ein Platz des Kontaktes benutzt werden kann". Demzufolge zeichnet es sich als ein Charakteristikum aus, daß sich die Bedeutung von Vejvi's Arbeiten insbesondere in den Zwischenräumen offenbart.

In der Verwendung von Strategien, die im allgemeinen in der Malerei und Fotografie angewendet werden, erschafft Vejvi anspruchsvolle Skulpturen, die unsere Imagination auf die Diskrepanz zwischen unterschiedlichen Repräsentationsarten lenken. Seine Kunst ist augenmerklich handgefertigt; sie vereinigt skulpturale und malerische Qualitäten und dient zugleich als Leinwand für Projektionen von Ideen aus der Kindheit und deren herrlichen Tage der Verspieltheit.

Nachdem Torbjörn Vejvi verschiedene Ausstellungen in den USA und Europa präsentiert hat, wird er seine Arbeiten in Kürze in The Wrong Gallery in New York präsentieren.