This webpage won't be updated anylonger.
Please visit: www.gerhardsengerner.com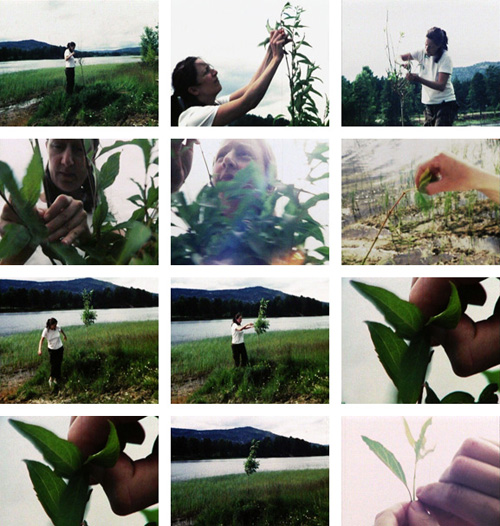 Redo, 2004
Super 8 film transferred to DVD, colour, with sound, Duration: 4 min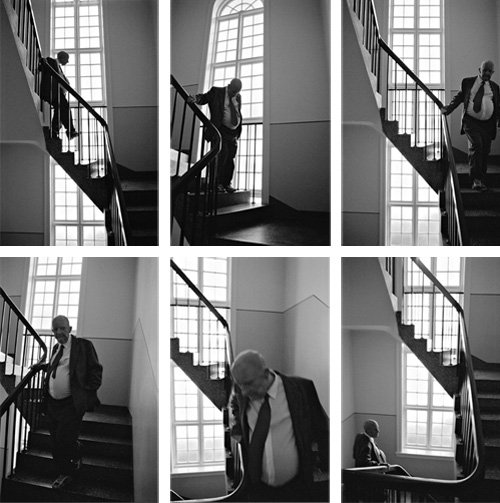 Old Man Going Up and Down a Staircase, 2003
Black and white RC-prints, 105 x 70 cm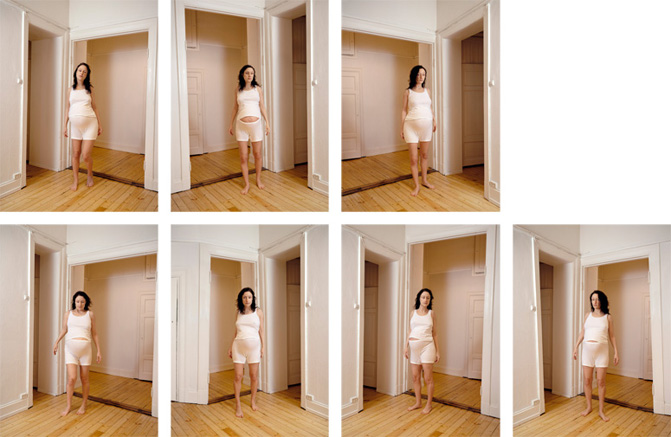 Undo # 1–7, 2003
C-print form digital collages, 156 x 116 cm
Press release

Vibeke Tandberg
Opening reception: Jan 15. 2005, 18 – 21.00
Duration: Jan 15 – Feb 19, 2005

In her fourth soloexhibition with c/o – Atle Gerhardsen, Vibeke Tandberg (*1967, Oslo) has revealed works from the years 2003/2004 in which she interacts with the changes to her body and her life situation during and following her pregnancy.
The Undo series consists of seven self portraits, which were created in the last few weeks of her pregnancy. Vibeke Tandberg has exaggerated her posture making it appear unnatural by means of a computer montage. Her limbs are portrayed as being greatly contorted, deformed or shortened. The opened doors in the background are partially reflected or linearly shifted. The transformation of her figure reminds one of the mannerism style of painting, which resulted from the conflict of the transformed view of the world in the 16th century due to the reformation and the discovery of America. In these works Vibeke Tandberg lends expression to her feelings of insecurity due to her changed perception of her own body and her transformed life situation.
The five part series Old Man Going Up and Down a Staircase reveals Vibeke Tandberg dressed up as an old man going up and down a staircase. In this work the formal representation of movement through the static medium of photography is not only solved by the artist by means of the serial compilation, which is characteristic of her art, as a "still movie" (Vibeke Tandberg). The motif of the staircase that is used by her also implies movement, a stylistic medium that was also employed by Duchamp (Nude Descending a Staircase No. 2, 1912) or Gerhard Richter (Woman Descending the Staircase, 1965). In addition to the formal approaches Vibeke Tandberg addresses the issue of movement in terms of content whereby she places the mobility of her pregnant body on a par with the cumbersomeness of an old man and imitates this in a playful manner.
Redo – Vibeke Tandberg carefully sticks green leaves onto a small bush in Norway. Birds are singing in the background of the video, which is played backwards. Redo is an experimental film, where Vibeke Tandberg uses the reverse movement to create a new meaning. To put the leaves back on a bush is like forcing spring or interfering with nature. The idea of "making a bush" was initially intended political as a direct reference to President Bush: "the action is a completely useless thing to do, with no effect on anything whatsoever. The same uselessness one can feel as a single individual in a world of superpowers." (Vibeke Tandberg)


---



Vibeke Tandberg
Eröffnung: 15. Jan 2005, 18 – 21 Uhr
Ausstellungsdauer: 15. Jan – 19. Feb 2005

Vibeke Tandberg (*1967, Oslo) zeigt in ihrer vierten Einzelausstellung mit der Galerie c/o – Atle Gerhardsen Arbeiten aus den Jahren 2003/2004, in denen sie sich mit den Veränderungen ihres Körpers und ihrer Lebenssituation während und nach Ihrer Schwangerschaft auseinandersetzt.
Die Serie Undo besteht aus sieben Selbstportraits, die in den letzten Wochen der Schwangerschaft entstanden sind. Durch Computermontage hat Vibeke Tandberg ihre Körperhaltung ins Unnatürliche übersteigert. Ihre Gliedmaßen sind stark verdreht, deformiert oder verkürzt wiedergegeben. Die geöffneten Türen im Hintergrund wurden zum Teil gespiegelt oder linear in sich verschoben. Die Verformung der Figur erinnert an die Malerei des Manierismus, die aus der Zwiespältigkeit des durch die Reformation und die Entdeckung Amerikas veränderten Weltbildes des 16. Jh.s resultierte. Vibeke Tandberg bringt in diesen Arbeiten ihre Unsicherheit mit ihrem verändertem Körpergefühl und ihrer wechselnden Lebenssituation zum Ausdruck.
Die fünfteilige Serie Old Man Going Up and Down a Staircase zeigt Vibeke Tandberg, als alten Mann verkleidet, die Stufen eines Treppenhauses auf- und abgehend. Die formale Darstellung von Bewegung durch das statische Medium der Fotografie löst die Künstlerin in dieser Arbeit nicht nur durch die für sie charakteristische serielle Anlage der Arbeit als "still movie"(Vibeke Tandberg). Auch das von ihr verwendete Motiv der Treppe impliziert Bewegung, ein Stilmittel, auf das auch Duchamp (Nude Descending a Staircase No. 2, 1912) oder Gerhard Richter (Woman Descending the Staircase, 1965) zurückgriffen.
Neben den formalen Herangehensweisen beschäftigt sich Vibeke Tandberg inhaltlich mit dem Thema Bewegung, indem sie die Beweglichkeit ihres schwangeren Körpers mit der Schwerfälligkeit eines alten Mannes gleichsetzt und diese spielerisch imitiert.
Redo – Vibeke Tandberg heftet sorgfältig grüne Blätter an einen kleinen Busch in Norwegen. Im Hintergrund tönen Vogelstimmen. Durch das rückläufige Abspielen des Videos bekommt die Handlung eine neue Bedeutung. Das Anheften der Blätter an einen Busch scheint den Frühlingsbeginn erzwingen zu wollen und das Eingreifen in den natürlichen Prozess zu symbolisieren. Ursprünglich politischen Ursprungs entstand die Idee einen "Busch zu produzieren" als direkte Referenz auf Präsident Bush: "...die Handlung ist völlig nutzlos, ohne Effekt auf irgendetwas. Die gleiche Nutzlosigkeit die man als einzelnes Individuum in einer Welt der Supermächte empfinden kann." (Vibeke Tandberg)